WINNING THE TBI BATTLE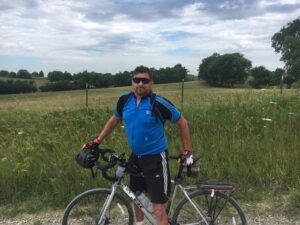 My name is Chad Myers and I wanted to share with you some of the ways I have learned to cope and live life as the "new me" following my TBI.  I am the president of BIAKS-GKC, as well as a 36-year TBI survivor of an incident that occurred while playing football at the park when I was eleven years old.  This incident left me in a coma, blind and paralyzed on my left side as well as numerous other side effects and setbacks.
The point of my story, however, is not to focus on what happened to me but rather on what I gained and learned from living with the "new me" for the majority of my life.  I have found four distinct ways to take more from the TBI than it has taken from me:
1) I realize it happened for a reason and instead of calling it an accident, I see it as an incident in God's plan for my life, therefore providing me a purpose in life – helping others by sharing my story.
2) I try and find ways to laugh about my setbacks and weaknesses from the incident rather than stress or worry about what I lost — partial eye sight, partial hearing loss, loss of balance, short term memory,  ability to multi-task, and loss of athletic ability to name a few.
3) I use my TBI experience as a benchmark to help overcome other adversity I face in life.  I also use it as a testimonial and share with others how God is working in my life through adversity.
4) Finally, I try and Keep my dreams alive that I had prior to the TBI.  Growing up I always wanted to play organized football at the highest level.  Due to the TBI, I never got the chance to play one down of organized football but as of  fall 2020, I have now worked 20 seasons of officiating all levels of football from Pop Warner to high school, college and even some semi-pro football games.  Even though my dream of being involved in the game of football at the highest level may be altered somewhat, I still try and keep it alive.  Instead of catching the touchdown pass, I now have aspirations of throwing the yellow flag and blowing the whistle at the highest level!
This is my brief story of how I try and win the TBI battle.  Everyone's story is different, but I truly believe that there is a silver lining in everyone's story as well.  I'd like to encourage all TBI survivors to look at their personal experience and find ways you can pull the positive light out of your experience.  It is a process and can take time, sometimes many years, but be creative and by doing this, I'm confident you can hold your head high knowing that you have won the TBI battle and taken more from it than what it has taken from you!  Good luck!
– Chad Myers, President, BIAKS-2021
Facing a brain injury is a difficult challenge. The Brain Injury Association of Kansas and Greater Kansas City is here to help.  Call 800-444-6443 or 913-754-8883, extension 1, to reach our Program Director.