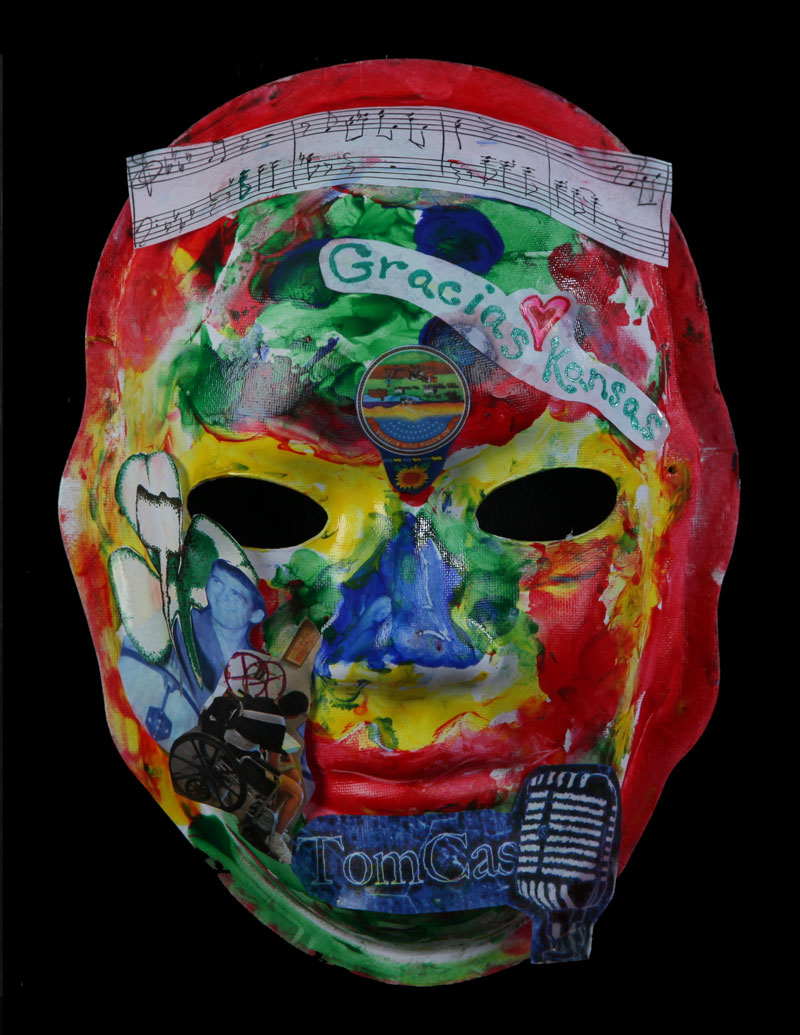 Timothy's Story
The red around the rim of the mask represents my trauma and the mix of color in my forehead represents bilateral frontal lobe injury. The microphone is who I was and can still be heard on the internet – both my music and numerous interviews of important people. That is me in the wheelchair looking at art at The Nelson and up at the musician I was – smiling – and a shamrock I drew because of my love for Irish music. The chart at the top of my brain is one of many I created as I arranged and wrote music for myself and other musicians to perform.
Finally, "Gracias Kansas", where I grew up and returned to and now live with my mother. It is here I hope to regain my strength and my purpose, guided by the state slogan "Ad Astra per Aspera", "To the Stars through Difficulties". I am grateful to live in Kansas, to have people who bring me hope, and to live in the security that I am cared for with kindness and love.
Because of the programs for TBI in Kansas, I am able to spend time in the community and to serve as a role model for the disabled. Someday I hope to spend time with high school and college students to show them what alcohol can lead to when it is abused at a young age. I appreciate the fact that the cause of my accident is not judged and that I am respected and loved by the wonderful caregivers and representatives in Kansas.